Some Information on Us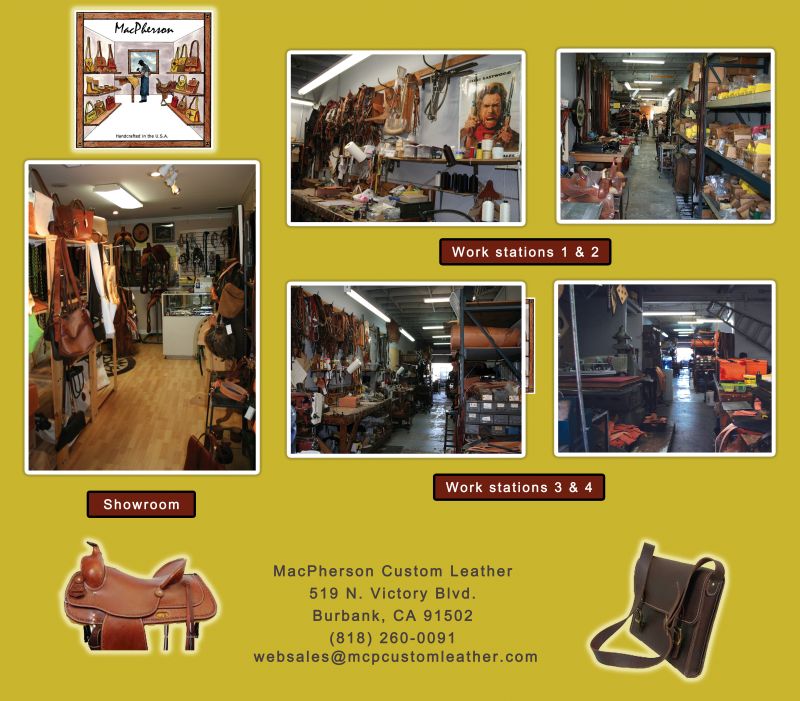 Firstly, if you have any questions or concerns, you can contact us

by clicking here to e-mail us

, calling us at (818) 260-0091 or faxing us at (818) 235-0618. We're here to help.

MacPherson Leather was founded by George MacPherson Sr. in Los Angeles, California in 1927 and began a legacy of custom work coupled with a very strong work ethic. George Jr. joined his father and learned the business from the ground up just after WWII. Finally Steve MacPherson joined his Father and Grandfather in the leather business in about 1960. Today, under new ownership, MacPherson Custom Leather continues to provide custom leather products handcrafted in the USA in the old school tradition. MacPherson Leather continues to serve its customers from its factory in Burbank, California, a suburb of Los Angeles. After more than 80 years, it's still providing customers with exceptional service and leather products designed in accordance with the customer's specifications with quality, service and price.

Some of our satisfied, repeat customers include Disney Worldwide Services, Paramount Pictures, L.A.P.D., Glendale P.D., Burbank P.D., L.A.F.D. and many other Law Enforcement and Fire Departments around the country, US Border Patrol, Knott's Berry Farm, Safariland, Los Angeles Airport (LAX), Southern California Gas Company and many more.

We're Proud to have been offering our

"Made in the USA"

products for over 80 years. In 2008 we expanded our quality and service to the Fashion Leather Accessory market. In early 2010, we acquired

Smithies Firefighter Suspenders

and are now expanding our quality and service to those who put their lives on the line for all of our safety, The Brave Firefighters.

Our goal is your satisfaction and we offer a 100% guarantee of our quality and workmanship. Our number one goal is your satisfaction with us and our products.

---